Danum Valley Conservation Area, home to the world's tallest (330.7 ft) tropical tree of the Yellow Meranti tree species (Shorea faguetiana), is regarded as one of the world's most complex ecosystems. It is 80 kilometres from Lahad Datu city, which has domestic flight links from several states of Malaysia to travel to Danum Valley Conservation Area.
Where to stay in Danum Valley
The Borneo Rainforest Lodge (BRL) in Danum Valley
Borneo Rainforest Lodge, on the other hand, caters to more affluent visitors. This multi-award-winning eco-lodge with international standards is located beside the Danum River. Among the attractions is the opportunity to go through the lodge's canopy walkway, which features viewing platforms 27 metres above the forest floor. A sample trip itinerary of Borneo Rainforest Lodge can be found here.
Danum Valley Field Centre (DVFC)
Danum Valley Field Centre is a world-class tropical biodiversity study facility. It is a rustic field station that is the largest of its kind in Southeast Asia. It was established primarily as a base for scientists while they do research. The centre is outfitted with laboratories, research and staff quarters, and lodging for keen naturalists. It also houses a 50-hectare plot of unspoiled primary forest, which is one of Southeast Asia's most thoroughly researched regions of tropical rainforest. Travel to Danum Valley's extraordinary forest as there is no sign of permanent human settlement or hunting, giving it a totally unspoilt natural wonder. Previously only available to scholars, the facilities are now available to guests searching for a basic stay while visiting Danum Valley.
Infapro in Danum Valley

Half an hour drive from DVFC, is another base which  allows us unrestricted night safaris. During daytime we can go on the trails at the Danum Valley Field Centre, and after dinner proceed with night safaris.
A sample trip itinerary of Danum Valley from Danum Valley Field Centre or Infapro can be found here.
What We Offer
We offer guided jungle trek to experience an intimacy with raw nature; night walks and night drives are also offered to see the nocturnal animals like slow loris, leopard cat, pygmy elephants, flying squirrels, civets, clouded leopard, and plethora of insects and frogs, among others. This is a true heaven for birders, as is any rainforest. Danum Valley conservation area has three ancient burial sites: two near the field centre and one below the cliff overlooking Borneo Rainforest Lodge. A trek to these sites can be organized.
We always recommend to do a Deramakot, Kinabatangan River Cruise or Tabin Wildlife Reserve trip before or after Danum valley to get the complete flavor of Borneo.
An insightful comparison between these four gems of Borneo wildlife viewing destinations can be found below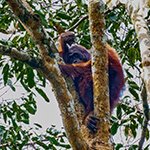 4 Days Danum Valley Field Centre with an Expert Guide
Overview
Itinerary
Package includes/excludes
Overview
This is the best possible trip in Borneo to see a clouded leopard or an Wild Orang Utan or other wildlife on Foot.
Here is a 3nights/4 days sample trip itinerary, which can be extended for more days according to your choice, usually repeating the itinerary of day 2 or day 3.
We always recommend to do a Deramakot Forest Reserve, Kinabatangan River Cruise and a Tabin Wildlife Reserve trips before or after Danum valley to get the complete flavor of Borneo.
Pricing:
USD 739 (MYR 3369) per pax, Ex-Lahad Datu
when 3 pax sharing the same vehicle, accommodation is on twin sharing basis with single supplement charge added. 
Unlike some other Tour Planners sending you to self-guided hikes, an Experienced Guide Specialized in the Danum Valley Conservation Area will accompany you Throughout this trip. We strongly recommend to use the service of dedicated private guide to track the wildlife in and also for safety of the guests during hikes.
The price also includes total 4 hours of 4wd safari time.
A 6 pax group will get the best possible rate for private guided trip.
Accommodation:
Air-conditioned Chalet style accommodation with en-suite washroom. We will book either in DVFC or in INFAPRO , upon availability.
*Road transport from Sandakan Airport and hotel booking at Lahad Datu for the night prior to departure can be arranged.
Itinerary
Package includes/excludes
Useful Information about Danum Valley
Beds are limited in DVFC and Infapro, so booking several months in advance is recommended.
We suggest you to carry head lamp, mosquito repellent, sunscreen, hat, sunglasses, binocular, dry bag, swimwear, walking shoes, comfortable trekking pack, water bottle, toiletries, basic first aid kit.
Pack some leech socks, and bring some antiseptic cream.
Unlike Deramakot

forest reserve, considerable amount of walks are involved to get more intimate with the rainforest.
sodas and alcoholic beverages can be arranged at an additional cost.
You won't be able to travel on your own as you would need a licensed guide to bring you around. Self driving is also prohibited as permits are only issued to relevant bodies.
Due to weather conditions, activities may be subject to re-scheduling to best meet operations, as well as clients health and safety.