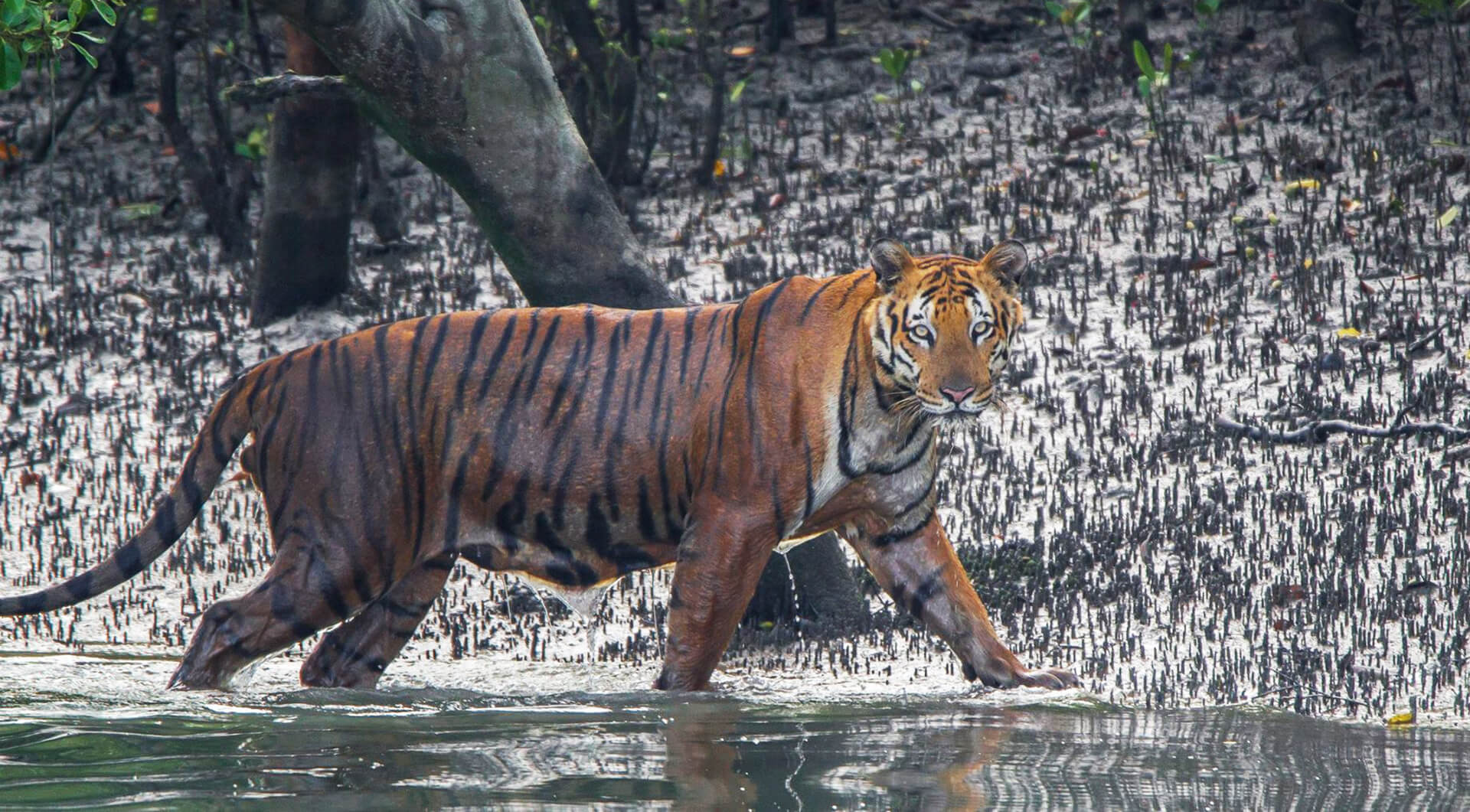 The world's largest delta and home to the world's largest mangrove forests, its brackish waters and mudflats are home to a diverse range of flora and fauna. The primary draw is undoubtedly to see Bengal Tiger in Sunderban. Your boatman's stories about tigers stealing sleeping humans from the smaller "dinghee" boats used by local fisherman and honey collectors always send shivers down anyone's spine. Visitors to Sunderbans National Park can only go on a boat safari. Walking or Jeep safaris are not permitted due to the obvious safety concerns.
Species to be seen
Seasonally, this mangrove woodland offers plenty of variation in its character. It is best in winter because tigers and crocodiles like to sunbathe. Sundarbans mudflats and islands attract migratory birds. Winter is great for seeing Brown-winged Kingfishers, Black-capped Kingfishers, Peregrine Falcons, Grey-headed Lapwings, etc. The Ruddy Kingfisher, Mangrove Whistler, and Mangrove Pita are rare monsoon visitors. Changeable Hawk Eagle (black and pale morphs), Crested Serpent Eagle, Osprey, Brahminy Kite, White-bellied Sea Eagle, Shikra, Lesser Yellownape, White-browed Scimitar Babbler, Chestnut-capped Babbler, Collared Kingfisher, and others can be observed year-round. Other animals include Fishing Cat, Leopard Cat, Jungle Cat, Oriental Small-clawed Oter, and Irrawaddy Dolphin, the gigantic Salt-water Crocodile, Water Monitor, King Cobra, Red-tailed (Bamboo) Pit Viper, etc, and it is the only forest in the entire Indian subcontinent to see the Buffy Fish Owl.
Best time to visit
Sunderbans is best visited between November and March. The weather is favorable at this time of year, making it ideal for spotting tigers and other wildlife. The tigers and crocodiles often bask in the winter Sun on open riverbank.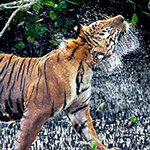 Sunderban on Houseboat, 4 Days
Overview
Itinerary
Package includes/excludes
Gallery
Overview
This is our most economical itinerary nicknamed "Mysterious Mangrove" to get a reasonable opportunity to understand and observe the Sunderbans and its wildlife. You will track the most elusive tiger with the most experienced nature guides of Sunderban. The world famous Sundarban mangroves are mostly visited by motorised boat, but some islands have watch towers for guests which can be reached by walking through a fenced corridor.
We pick up and drop off our guests from Kolkata, the nearest big city and ex-capital of British India with an international airport. Unlike other major tour groups night-staying in abundant hotels/resorts nearby, you are going to sleep inside the houseboat's comfortable cabin for more authentic feels and also technically much quicker access to view wildlife in the dusk and dawn when they are most active. Worry not, you are completely safe on the houseboat and the misty early mornings over the river are surreal, with a cup of hot tea/coffe.
We always recommend to extend the trip to a 6 days cruise to get a better opportunities for wildlife, and also to go further into the remote spots of the delta undisturbed from human.
The below price is for exclusive usage of the vessel.
6 pax, 380 USD per person for 4 days, overnight on boat. We can also arrange night-stay in resorts upon request.
For INDIAN Nationals, a reduction in terms of park fees will be provided.
Itinerary
Package includes/excludes
Gallery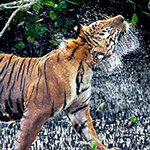 Sunderban with a Luxurious Ending, 6 Days
Overview
Itinerary
Package Details
Gallery
Overview
This is one of our most popular itineraries since it allows you to immerse yourself in two very distinct essences of the world. You will embark on your journey to the enigmatic Sundarban mangroves and its world-famous animals. And, after 4 days of cruising through the creeks and canals in quest of the elusive wild cats, we'll spend Two more nights at the Ganga Kutir, an award-winning property that, as they say, "blends seamlessly with the Gangetic landscape", and "an experience that is sure to make you indulge yourself again and again."
The below price is for exclusive usage of the vessel.
6 pax, 590 USD per person, overnight on boat during safari. We can also arrange night-stay in resort of Sunderban upon request.
For INDIAN Nationals, a reduction in terms of park fees will be provided.
Itinerary
Package Details
Gallery
Please inform us of your dietary requirements. Please bear in mind that we will be staying in a boat away from the land and villages. We will freshly cook local dishes on the boat with the freshest ingredients and often using live catches acquired from the fishermen on the go. 
We will provide you field guide books and binocular during safari.
We can arrange limited wifi for an additional cost.
Carry a pair of slippers and comfortable walking shoes. We can only set foot on ground in some designated fenced parts of the Sunderbans, near the watchtowers. So most of your trip you do not need the shoes.
A headlamp is always handy, so is mosquito repellent and antiseptic cream.
We will provide packaged drinking water. Limited choices of soft canned drinks can be pre-arranged at an additional charge.  
Blanket, towel, pillow, clean bed sheets will be provided. Kindly carry the other personal amenities, or request us in advance.
You will get limited charging points, so you might consider carrying a multi-plug to charge multiple gadgets together at the same time.