Wild cats of Deramakot forest reserve
All five species of Bornean wild cats, namely, leopard cat, marbled cat, clouded leopard, flat-headed cat, baycat are seen, leopard cat being the most common and baycat the rarest. Infact, this is the only forest where all five wild cat species are recorded.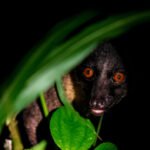 Civets of Deramakot forest reserve
7 Species of civets are recorded from this forest. Commonly seen by our guests: island palm civet, striped palm civet, 3 striped palm civet, otter civet, banded civet, malay civet. All of them are nocturnal. Except the malay civet which is terrestrial, the other civet species are highly arboreal.
Primates of Deramakot forest reserve
Among primates, of course the main attraction is the completely Wild population of Orang Utan inhabiting this forest. Maroon langurs, silver leaf monkeys are commonly seen during the day-time safari, and flying lemur, Philippines slow loris are commonly seen in night safaris. Recently described Sabah gray langurs are also recorded a few times very close to the basecamp.
Birds of Deramakot forest reserve
289 species of birds are recorded from Deramakot. Broadbills, treeswifts, pittas,  woodpeckers, leafbirds, spiderhunters, owls, eagles, bristleheads, flycatchers, frogmouths, nightjars of several species has been seen by our guests. Seven species of hornbills can be seen flying over the canopy here, White-crowned, Rhinoceros, Oriental Pied, Wreathed and Wrinkled are among them.